Nfinnerty Electrical provide EICR Certificates in York and throughout the surrounding areas. An EICR is an Electrical Installation Condition Report issued by a qualified electrician. It is a formal report that is produced following an engineering judgement of an electrical installation within a property or HMO. It must be carried out by an experienced qualified electrician or approved engineer.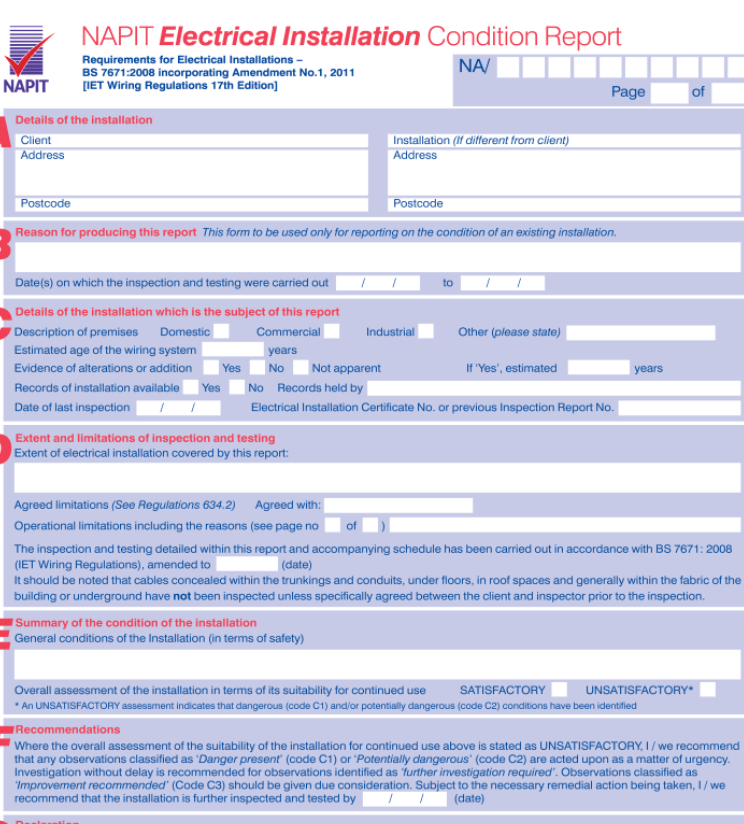 What is an EICR Certificate?
An EICR, or Electrical Inspection Condition Report (Electrical Certificate), is an in-depth inspection of your property's electrical systems and installation. The inspection is to assess and identify any condition, deterioration or defect which has the potential to result in danger.
In this electrical safety certification, all the electrical systems and installations present in residential or commercial buildings are thoroughly inspected.
The items tested in a domestic property are the fuse box or consumer unit, sockets, lighting, earthing and bonding. If there is anything beyond these that need attention please let us know before the certificate is carried out so we can add it to the areas covered in the testing. Please let us know if there are more than 10 circuits (circuit breakers) or multiple consumer units/fuse boxes in the property as this will affect the price of the certificate and the time needed in the property.
The electrical certificate or EICR is different to an electrical installation certificate. Generally the engineer who has installed the wiring or fuse box would need to provide the installation certificate via their governing body to show the installation has been made in accordance with BS7671. We can only provide an electrical installation certificate for a installation we have contracted to carry out.
Please note accessories attached to the electrical system such as items plugged in or externally attached are not covered unless specifically requested. If a report is unsatisfactory and you require further information please give us a call and we will gladly help. We test a sample of circuits (10%) to provide the necessary readings. If a full test of every point is needed please let us know and we can arrange the full test to be completed.